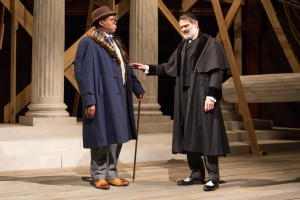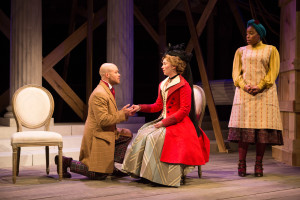 Folger Theatre's District Merchants with Playwright Aaron Posner and Cast Member Craig Wallace
June 26, 2017
7:00-9:00 PM
The event will be held at:
Southeast Branch Library
403 7th Street, SE,
Washington, DC 20003          
Free. Please RSVP to carolebernard@wapava.org or 202-780- 7754.                                                                                 
 
The Washington Area Performing Arts Video Archive (WAPAVA) is excited to host another one of its WAPAVA PRESENTS event, where we host a screening of one of our archived productions from the James J. Taylor Collection.
In partnership with the Folger Theatre and the Southeast Branch Library, WAPAVA will show excerpts of a video recording of the Folger Theatre's world premiere of District Merchants (2017) and a panel discussion with Playwright Aaron Posner and Cast Member Craig Wallace. We are excited to highlight this wonderful production, a 2017 Helen Hayes Award winner for Outstanding Original Play or Musical Adaptation! And we look forward to seeing you.
                                                                                                                       
Please join us on Monday, June 26th, 7:00 pm-9:00pm. The event is free and open to the public.

About the production
Love and litigation, deep passions, and predatory lending are grappled with in this uneasy comedy, which wades fearlessly into the complexities and contradictions of life in America. Set among the Black and Jewish populations in post-Civil War Washington, D.C., where passions simmer and societies realign, District Merchants is a remarkable and timely tale of money, merchandise, and mercy. Playwright Aaron Posner sets this new exploration of class and difference in our own political place of power, Washington, D.C., just after the Civil War. Directed by Michael John Garcés, this reconstructed comedy features Matthew Boston as Shylock and Craig Wallace as Antoine. District Merchants is Aaron Posner's variation on Shakespeare's The Merchant of Venice.
 
About WAPAVA
WAPAVA is a 501(c)(3) nonprofit organization, incorporated in Washington, DC. WAPAVA is one of only three major continuous Actors' Equity-approved video performance archives in the United States (others include Theater on Film and Tape in New York and Chicago Film Archive of Performance in Chicago). WAPAVA serves as a resource for theater professionals and scholars; students and educational programs; specialized researchers in local and national theater history; and the general public.
 
Since 1993, the organization has produced over 750 professional video recordings, representing a cross-section of Washington-area theaters, from large and established (Shakespeare Theatre, Folger Theatre, Ford's Theatre) to small and emerging (1st Stage, Creative Cauldron, Forum Theatre, Spooky Action). Productions are chosen for their historical and educational value. Premieres, unique events, community interest, and contributions of particular value by performers, directors, and/or designers are given special consideration.
Past Events
April 4, 2016: Excerpts from Shakespeare Theatre Company's Romeo & Juliet (2008) & Discussion with Shakespeare Scholar Frank Hildy at the University of Maryland