Excerpts from Shakespeare Theatre Company's Romeo & Juliet (2008) &
Discussion with Shakespeare Scholar Frank Hildy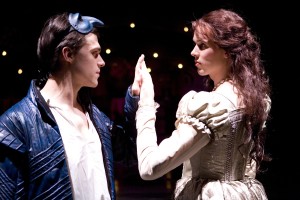 April 4, 2016 7:30 pm-9:30pm
PLEASE RSVP: carolebernard@wapava.org 
Michelle Smith Performing Arts Library, Piano Room
8115 Alumni Drive, Clarice Smith Performing Arts Center
University of Maryland
College Park, Maryland 20742-1630
The Washington Area Performing Arts Video Archive (WAPAVA) hosts WAPAVA Presents, a viewing of one of its archived productions from the James J. Taylor Collection, and discussion with Shakespeare scholar Dr. Frank Hildy. WAPAVA will show excerpts of a video recording of the Shakespeare Theatre Company's all-male performance of Romeo & Juliet (2008). The event is free and open to the public.
About the Production
The Shakespeare Theatre Company opened its 2008-2009 season with an all-male production of Shakespeare's Romeo and Juliet, directed by STC Associate Artistic Director David Muse. Staged in the thrust configuration, the production featured period costumes and music influenced by the Renaissance to explore theatre traditions prevalent in Shakespeare's day. Muse directed a cast that included Finn Wittrock as Romeo and James Davis as Juliet, with Aubrey Deeker, Drew Eshelman, Ted van Griethuysen, Dan Kremer, Lawrence Redmond and Craig Wallace.
The world's greatest and most enduring love story, Romeo and Juliet follows its star-crossed lovers as they hurtle from their first shy glances to their last heartrending kiss. Caught between their feuding families, Romeo and Juliet desperately struggle to build a world insulated from the violence, but their love races toward a final confrontation with fate.
Photo Caption: Finn Wittrock as Romeo and James Davis as Juliet in the Shakespeare Theatre Company's all-male production of "Romeo and Juliet," directed by David Muse. Photo by Scott Suchman.
About Dr. Frank Hildy
Dr. Hildy, apart from being an internationally recognized authority on Shakespeare, and the Globe Theatre, also serves as the Head of MA/PhD in Theatre and Performance Studies, the Head of Theatre Scholarship and Performance Studies Cluster, and the Director of Graduate Studies for the School of Theatre, Dance, and Performance Studies at the University of Maryland.